Brazil's new government sets sights on reversing economic slump
Comments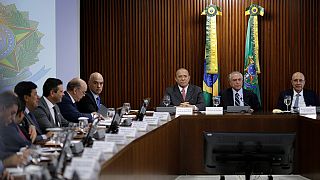 Brazil's newly installed Cabinet is getting to work, in the wake of Dilma Rousseff's suspension.
The economy is a priority for incoming interim president Michel Temer. He wants to see pro-business policies, while maintaining social programmes.
But spending cuts and austerity measures are also on the cards.
"What happened and the way it happened might mean some economic changes for the country but, politically, I don't think much will change," said student Carlos Eduardo Nunes.
It is a rocky road ahead for the new government. As well as a gaping deficit, Brazil has rising unemployment and plummeting investment.
It is all weighing heavily on the shoulders of new finance minister Henrique Meirelles, a former central bank governor.
"The Congress reflects Brazilian society," Meirelles told reporters.
"My evaluation is that the society is mature enough to accept significant adjustment measures. What is not possible, in everybody's experience, is to continue as we are."
Rousseff, who denies any wrongdoing, still enjoys support and says her trial is an attempt to seize power.
She is calling on her backers to maintain a united front against the interim government, described by her as illegitimate.