US activates controversial missile shield in Romania
Comments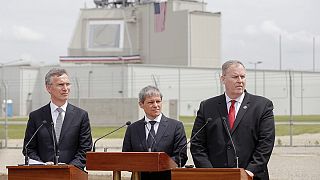 America has switched on a controversial missile shield in Romania, incensing Moscow.
The aim, it says, is to protect NATO countries from short and medium-range missiles.
It is part of a wider defensive umbrella, which will stretch from Greenland to the Azores.
But Russia claims the shield is aimed at blunting its nuclear arsenal.
"It was never, ever about Russia. It was always about ballistic missiles coming out of the Middle Eastern region towards NATO allies and US forces in Europe," said Robert Work, US Deputy Secretary of Defence.
"And I'd just like to echo what the Secretary General has said – we have offered to the Russians to show them the technical specs."
Moscow says the system, at the southern Deveselu air base, is a "direct threat" to security.
It's accusing the US of violating the Intermediate-Range Nuclear Forces Treaty.
"We consider the deployment of such launching platforms on land as contradicting one of the key provisions of the INF Treaty," said Maria Zakharova, a Russian Foreign Ministry spokeswoman.
"Thereby, the United States have violated the INF Treaty, which has to be declared openly and without any additional diplomatic expressions."
While US and NATO officials are adamant that the shield is designed to counter threats from the Middle East, they're vague on whether the technology could be reconfigured to defend against Russia – if there's a conflict.