Armed forces deployed to Belgian prisons as strike enters third week
Comments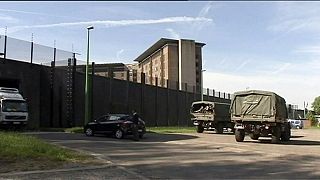 Belgium has mobilised the military to assist in prisons where guards have been on strike for over two weeks.
Police and the Red Cross had been staffing the jails, after guards walked out in protest at what they say is dangerously-low staffing following budget cuts.
Stretched thin, three of the largest facilities have received some relief. Two of the prisons are located in Brussels and one in Liège.
#Belgium: Prisons in Revolt, the State sends the army insidehttps://t.co/XslE9Y1ny2pic.twitter.com/1DEPEcvDhe

— Insurrection News (@InsurrectNews) May 10, 2016
Colonel Jean-Louis Crucifix was deployed to the Liège facility.
"The fact that defence is intervening in a social matter is causing a problem and taking the place of real social dialogue," he told a reporter.
When asked "Isn't it its role?" he responded "In principle, no."
Matters are at a stalemate, with guards rejecting the Justice Ministry's proposal to recruit 405 new officers this year. Union leaders say the offer would still leave prisons understaffed.