Bringing space technology down to earth at the Living Planet Symposium
Comments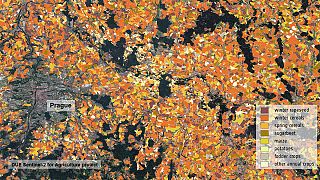 Orbiting the earth are some of the most important tools to human understanding of the earth.
Satellites are not only important to scientists but are becoming increasingly important for national economies with more severe climate events.
Scientists attending the Living Planet Symposium which opens in Prague on Tuesday will be looking at how our fascination with space is driving innovation. Claudio Rosmino spoke to Simonetta Cheli, Head of Coordination Office at the Directorate of Earth Observation Programmes (ESA), ahead of the opening.
"The satellites are fundamental because they provide parameters such as atmospheric temperature and forest density and 30% of climate-related activities are related to the forest density (area). The data from the satellites are an instrument for politicians and scientists but also an instrument for the generations of our children and our grandchildren to ensure the safeguarding of this planet."
Harnessing data from satellites could prove vital to fighting the effects of climate change and create a foundation for any treaties that seek to reduce the effects of global warming on the planet.
Researchers say that analysing satellite data has a huge potential to revolutionise city planning and generate new business ideas to deal with the changing world.