Merkel at centre of refugee row in rival Berlin rallies
Comments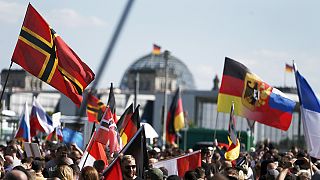 Far-right and populist protesters marched through Berlin on Saturday to demand that Chancellor Angela Merkel step down for allowing more than a million migrants from the Middle East into Germany since last year.
Organisers expected 5,000 participants. As it happened, far fewer took part. Numbers given varied from 1,000 to 1,800.
Under the motto 'Merkel must go', they gathered outside Berlin's central train station waving German flags and holding up posters with messages like "Islamists not welcome".
More than 7,000 counter-demonstrators were also on the city's streets however.
Chanting slogans like 'Nazis out', they wanted to show support for refugees and a rejection of racism.
Trade union demonstration in #Berlin in support of a tolerant society. #HappeningNow#germanypic.twitter.com/SbSncMC9Cl

— Cormac Walsh (@CormacWalsh) 7 mai 2016
Many Germans have welcomed the new arrivals. Others say the country can't cope with integrating them and risks losing its identity.
Support for the anti-immigrant Alternative for Germany party has risen sharply, while arson attacks on refugee centers and sometimes violent protests have become increasingly common.
A large police presence was on hand on Saturday to keep the two sides apart in Berlin.
Several left-wing activists were arrested for trying to break through barriers separating the rival groups. Scuffles followed but police said the situation was quickly brought under control.