Sadiq Khan sworn-in as London's new mayor
Comments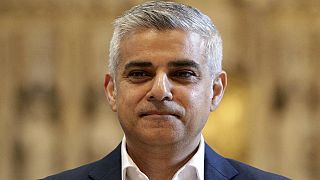 Marking himself out from his predecessor on the first day of the job, Sadiq Khan was sworn-in as London's new mayor at a multi-faith service in Southwark Cathedral.
Snatching back the post for Labour after eight years in the wilderness, his victory has been hailed by many as a shift in perspective for the British capital, something Khan was keen to emphasise.
"I'm determined to lead the most transparent, engaged and accessible administration London has ever seen. And to represent every single community and every single part of our city as mayor for all Londoners."
This is what extraordinary societies look like. SadiqKhan</a>, new London mayor, in a picture possible in few places. <a href="https://t.co/X09vu7m1xt">pic.twitter.com/X09vu7m1xt</a></p>&mdash; Anand Giridharadas (AnandWrites) May 7, 2016
Much has been made about Khan's background, he even joked himself saying, "Some of you may not know this, but I grew up on a council estate, just a few miles from here." The son of a Pakistani bus driver, he went on to study law before entering politics in 2005. Acknowledging his background he said he wanted to give all Londoners the opportunities the city had given him and his family.
Baroness Lawrence, mother of murdered teenager Stephen, took to the podium to pay tribute to Khan.
"I never imagined that in my lifetime I could have a mayor of London from an ethnic minority background. It is an amazing sign of how far our city has come. London is a city that not only tolerates, but celebrate diversity. A city that has chosen unity over division, and hope over fear."
Although one notable absence from the ceremony was Labour leader Jeremy Corbyn. Khan's win was won of the most dramatic results in local and regional elections, and a big boost to the beleaguered left-wing party.
The losing Conservative candidate Zac Goldsmith has come under fire for running a divisive campaign, attempting to highlight Khan's alleged links to extremists. There has also been a strong reaction to Khan's win as the first Muslim mayor of a major European capital. The Twitter hashtag #LondonHasFallen sprung up with Islamophobic and xenophobic reactions to his election. The Twittersphere has also responded with the #LondonHasRisen to counter it with messages of support for diversity and unity.