Journalists among six facing death penalty in Egypt for 'spying for Qatar'
Comments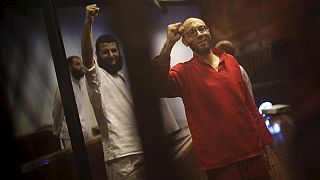 An Egyptian court has sought the death penalty for six men including three journalists charged with endangering national security by spying for Qatar.
The verdict against former president Mohamed Mursi, who is charged in the same case, was postponed until June 18 – when the final ruling for all those on trial is due.
A decision in his case had already been postponed last month to allow for more consultations.
The death sentences have been referred to Egypt's top religious authority, the Grand Mufti, for a non-binding opinion.
Two of the journalists – Jordanian national Alaa Omar Sablan and Ibrahim Mohammed Helal – work for Al Jazeera. The third, Asmaa Al Khateeb is a reporter for Rassd, a pro-Muslim Brotherhood news network. They were sentenced in abstentia.
Reports say that sentences for those tried in abstentia are automatically dismissed, pending a new trial should they return to Egypt.
Ibrahim Helal, veteran #Egypt journalist, was among six referred to death penalty today by court. He's not in Egypt pic.twitter.com/N7gRazhiNC

— Fadi Al-Qadi (@fqadi) 7 May 2016
One of those convicted, Ibrahim Helal, has been quoted as saying that the evidence was unconvincing and that the verdict was a badge of honour.
Al Jazeera, which is based in Qatar, has rejected Egypt's allegations that the network was collaborating with the Mursi government.
The Muslim Brotherhood leader has already been sentenced three times after separate trials – to death, a life term and 20 years in prison.
The prosecution in the latest case alleged that Mursi and 10 co-defendants had leaked "classified documents" containing national security secrets to Qatar, in exchange for money.
Relations between the two countries have been icy since the military overthrew Mursi in July 2013.
Egypt's first freely elected president, Mohamed Mursi had barely completed a year in office when he was deposed and detained.
It followed months of protests which began when he issued a presidential decree placing his decisions above judicial review.
There followed a period of repression on Muslim Brotherhood members and supporters. More than 1,000 were killed and thousands arrested and imprisoned.
An Egyptian court just sentenced two Al-Jazeera journalists to death on espionage charges: https://t.co/J3luiil9ES

—

VICE

News (@vicenews) 7 May 2016