Raptors level with Heat before trip down south
Comments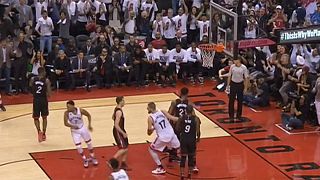 It all went down to the final minute in an absorbing Game 2 of the Raptors-Heat rumble for the NBA's Eastern Conference semi-finals.
Toronto just couldn't hold on and Miami scored with 10 seconds to go to take the tussle into overtime again, as the home fans bayed their disappointment.
They needn't have worried as the Raptors levelled the series one-all heading for Miami for the next game, final score 96-92.
Jonas Valanciunas was invisible for the first three quarters, but threw all the switches for the final burst, scoring 11 points and seven rebounds. The team came alive with him, clawing back from a deficit.
The Heat made 11 turnovers in the first quarter, a figure not equalled since 1997, but totally lost their vibe in overtime when the Raptors hit them hard and early and ensured their basket remained untouched.