'I dream of a Europe where being a migrant is not a crime' - Pope receives Charlemagne Prize
Comments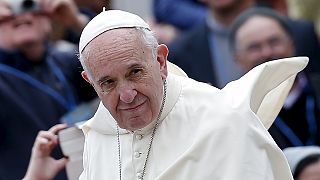 Pope Francis has called for Europe to remember its founding values, as he received the Charlemagne Prize for his contribution to European unity.
In a speech heavily referencing Europe's past, the Pope asked 'What has happened to you, Europe?' He said remembering the past would 'free us from today's temptation to build hastily on the shifting sands of immediate results, which may produce "quick and easy short-term political gains, but do not enhance human fulfilment".
It comes as the EU deals with a series of crises – an emergency summit is to be held on Monday to deal with the latest round of debt relief for Greece, Britain is to vote on whether to leave the 28 member bloc in June, and a deal struck with Turkey to handle the flow of refugees and migrants continues to court controversy. Hungary has accused the EU of blackmail over the introduction of fines for refusing asylum seekers.
The Pope has highlighted the EU's struggles to deal with the large number of migrants and refugees arriving on their shores. On a recent visit to the Greek island of Lesbos, he took 12 Syrian refugees back to Italy. Concluding his speech, the pontiff set out his vision of Europe's future saying he dreamed of a Europe where "being a migrant is not a crime but a summons to greater commitment on behalf of the dignity of every human being."
In a break from convention, the ceremony took place at the Vatican, rather than the German town of Aachen, with the EU institutions three presidents Donald Tusk, Martin Schulz and Jean-Claude Juncker making the trip to Rome. King Philip of Spain and German Chancellor Angela Merkel was also in attendance.
Tutto pronto per il Premio Carlo Magno a #PapaFrancescopic.twitter.com/jBVEDuqaLL

— Antonio Spadaro SJ (@antoniospadaro) May 6, 2016
The pontiff is the 58th winner of the prize and second pope (after John Paul II in 2004) to be awarded the prize for the contribution to European unity.