Latin American cabbies step up protests over Uber
Comments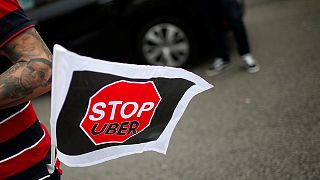 Taxi drivers in Argentina have been out protesting again over competitor Uber Technologies for defying a ban and continuing to operate in the capital Buenos Aires.
Cab drivers accuse the app-based firm of violating local regulations and risking passengers' safety by offering rides with drivers who lack a taxi license.
.MaryAnastasiaOG</a>: "Argentina badly needs the creative destruction of the disrupter class and that includes Uber." <a href="https://t.co/MOWSG6jHaK">https://t.co/MOWSG6jHaK</a></p>&mdash; WSJ Editorial Page (WSJopinion) May 2, 2016
Uber's launch in Buenos Aires last month met with widespread protests by drivers of the city's black and yellow cabs, along with threats from officials, echoing resistance the U.S.-based company has faced in many of the more than 400 cities where it operates worldwide.
Uber says its permitted to operate in Buenos Aires and other cities under Argentine law.
And in Brazil hundreds of taxi drivers in Sao Paulo lined their cars along the road and gathered in protest against ride-sharing company Uber on Wednesday (May 4) as tensions there continue to bubble over competition posed by the mobile app.
Drivers have accused Uber of causing demand for their services to drop by 60 percent since the company began operating in the country.