No surprise in Atletico reaching Champions League final - Simeone
Comments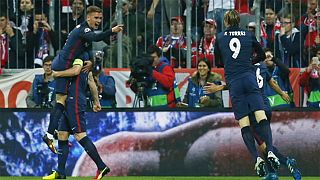 For the second time in three seasons and for a third time overall Atletico Madrid have made it to the final of Europe's top club competition.
The Spaniards were beaten by Bayern Munich 2-1 in their semi-final second leg, but advanced to the Champions League showpiece match on the away goals rule courtesy of a 1-0 win in the first leg fixture on home turf a week ago.
Atletico Madrid coach Diego Simeone said his side has made giant strides in the last few campaigns.
He said: "We worked really hard in the last four years and a half. Obviously there are things that we have to improve but it's not a complete surprise for a team like ours to be in a Europa League final, a European Super Cup final, a King's Cup final and two Champions League finals…with 10 new players… with a lot of young players… It's not a coincidence."
Bayern coach Pep Guardiola was understandably disappointed in the result which means he couldn't hand his club Europe's most prestigious trophy in his final season in charge before heading off to the Premier League to manage Manchester City.
"Today is a sad day but over the next days we can analyze better what has happend. We have done everything that we can and I just say: 'Keep your head up, be proud'. Be proud of our job and your work here, and go forward," said the Spaniard.
While silence swept over the Bavarian capital, Madrid was awash with white and red as Atletico fans celebrated their club's latest victory at the iconic Neptune Fountain in the city centre.
Atletico Madrid will now head to the May 28th final at the San Siro hoping it's a case of third time lucky after losing the 1974 and 2014 showpiece matches.