Google and Fiat to team up on self drive cars
Comments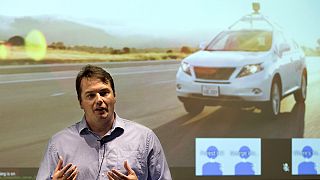 Google which has been testing self-driving cars since 2009 is going one step further in the development of the technology. It is has agreed with car maker Fiat to buy 100 plug-in hybrid minivans so it can expand its vehicle testing programme.
Who needs Uber? Self-driving minivan reportedly coming from Fiat Chrysler and Google https://t.co/MzfTZSG86X

—

CICT

Sullivan (CICT_Sullivan) May 3, 2016
The deal is the most advanced partnership to date between Silicon Valley and a carmaker…although the vehicles will not be offered for sale to the public.
John Krafcik and Sergio Marchionne, CEOs of Google and Fiat have agreed that car makers and new industry participants like Google should work together rather than compete.
The companies plan to develop 'several dozen self-driving prototypes based on the carmaker's Pacifica minivan in the first phase of the joint project.
Auto industry executives have said self-driving vehicles, might hit the roads first in ride-sharing or shuttle fleets.