80,000 flee as inferno threatens Canadian oil hub
Comments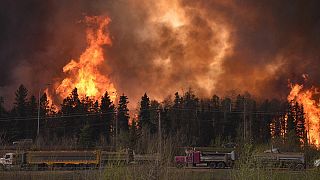 The entire population of Fort McMurray in Alberta, Canada, is fleeing in an evacuation ahead of a wall of flames now entering the city limits.
We lost everything. We only have what we have on our backs
The army and air force is heading to the province to help 80,000 people escape out-of-control wildfires that are filling the city with smoke. Alberta has called for an airlift as the fires have cut the major southern route out of the city.
"It`s a disaster and and I find that it is not fair and they didn`t even let us take our things. So we lost everything. We only have what we have on our backs," said one tearful woman.
Queues of cars are packing roads north, to the tar sands camps in the oil-producing region. All along the roads, the smoke and flames are visible for miles.
"It has been the worst day of my career. The people here are devastated, everyone`s devastated, the community is going to be devastated, this is going to go on, this is going to take a while for us to come back from," said the Buffalo Regional Fire Department's Darby Allen Wood.
Hot dry winds and high temperatures have made the entire Canadian arboreal forest a huge potential fire hazard, now classed as at extreme risk.
Conditions have been significantly worsened by the ongoing, if weakening effects of El Nino
The remoteness of Fort McMurray means extra resources need time to arrive. Until then there is little to check the inferno.