Tensions in Odessa on anniversary of 2014 deadly clashes
Comments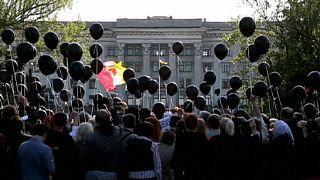 A bomb alert and the discovery of three grenades left in a bag have overshadowed commemorations in Ukraine's Black Sea port of Odessa.
The incident reflects the tensions that still remain in the city.
Ukraine's tense Odessa marks two years since clashes killed 48 https://t.co/AoR79fj5tb

—

AFP

news agency (@AFP) May 2, 2016
On Monday over a thousand gathered to remember the 48 people who died in some of the worst violence that immediately followed the ousting of President Viktor Yanukovich.
"This is a day of sorrow, a day of remembrance for those who died two years ago, killed in a vicious and treacherous way," said one Odessa resident.
Deadly clashes
The deaths two years ago in Odessa were one of the most controversial chapters of the period that began with the Maidan protests in Kyiv in 2014.
On May 2 as pro-Russian protests were growing in many cities in south and east Ukraine, street clashes between pro-Russians and Ukrainian nationalists ended with the pro-Russians blocked into the five-story Trade Unions building, which was then set on fire. Dozens burned to death inside.
Investigation
An investigation which is going on today was launched to identify the causes of the fire and also to examine police failure to contain the violence earlier in the day. Witnesses claimed the police stood by doing nothing.
The deaths were portrayed as a "fascist massacre" by Russian media, and acted as a recruiting spur for the separatist cause in Ukraine. In Kyiv, Russian media were accused of stirring up and manipulating local discontent, furious at the pro-western movement in the capital.