Freediver descends 124 metres for new world record
Comments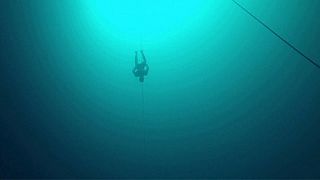 It's a world record that will quite literally take your breath away.
William Trubridge from New Zealand set a brand new freediving world record by plunging 124m into a sinkhole in the Bahamas using one breath.
Having reached a new depth of 122 metres at the same site a few days earlier Trubridge went in again to beat it by two metres and set his 17th world mark.
To complete this amazing feat Trubridge had to hold his breath for a staggering four minutes and 34 seconds.