President Barack Obama sparks laughter with masterful speech in final White House Correspondents' dinner
Comments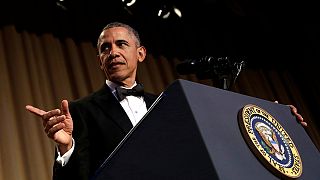 Journalists, politicians, film stars and arguably the most powerful man in the world. Barack Obama the President of the United States hosted his eighth and final White House Correspondents' dinner before leaving office. An insightful speech into policy and world affairs? Not at all.
"Good evening everybody," he began. "Next year at the same time someone else will be standing here in this very spot, and it's anyone's guess who she will be," he continued to laughter from the audience. The jokes continued.
"You've got to admit though, Hillary trying to appeal to young voters is a little bit like your relative who just signed up for Facebook. 'Dear America, did you get my poke? Is it appearing on your wall. I'm not sure I'm using this right'.
'Mr. Bernie Sanders. There he is. Bernie you look like a million bucks. Or, to put it into terms you'd understand, you look like 37,000 donations of 27 dollars each.
'Is this dinner too tacky for Donald? What could he possibly be doing instead? Is he at home eating a Trump steak, tweeting insults to Angela Merkel? What's he doing?
'The Republican establishment is incredulous. They say Donald lacks the foreign policy experience to be president. But in fairness, he has spent years meeting with leaders from around the world. Miss Sweden, Miss Argentina, Miss Azerbaijan.
'Eight years ago, I was a young man full of idealism and vigour, and look at me now. I am grey, grizzled, just counting down the days to my death panel.
'Even some foreign leaders, they've been looking ahead anticipating my departure. Last week, Prince George showed up at our meeting in his bathrobe. That was a slap in the face. A clear breach of protocol.
'And with that I just have two more words to say 'Obama out'."