Gajser scores fourth Motocross season win in Latvia
Comments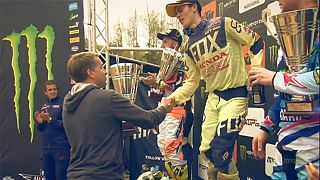 Rough and tumble in Latvia where brutal racing conditions sorted out the men from the boys in the FIM Motocross Grand Prix.
It was the sixth round in the championship, held on a rough, technical circuit at Zelta Zirgs in Kegums.
Honda's Tim Gajser notched his fourth overall win of the season, winning race one but suffering a monster shunt in the second, in which he fell way back in the field, outside the top 20 before fighting his way through to finish fourth, good enough.
He is the only rider to have finished at or near the top all season, on the box every time, and he now trails the championship leader Roman Febvre by just one point.