Germany's AfD party adopts anti-Islam manifesto
Comments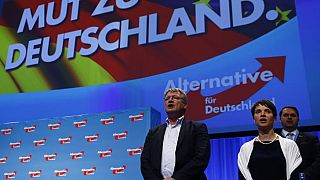 The German ant-immigration party, 'Alternative for Germany' (AfD), has adopted an anti-Islam manifesto on the second day of its two-day conference in Stuttgart.
Members voted to include a ban on minarets, the call to prayer and the full-face veil.
Co-leader Jörg Meuthen said after the vote Islam was not part of Germany:
"Sharia on German soil cannot be allowed. Also the treatment of women, as it is described in the Koran, in our point of view is not compatible with the German constitution. Still, this does not mean that we turn against Muslims who are integrated and live peacefully here."
Anti-immigrant AfD says Muslims not welcome in Germany https://t.co/cM7Y2i58NSpic.twitter.com/KT5a3XEI02

— Reuters Top News (@Reuters) May 1, 2016
On Saturday up to 2,000 left-wing demonstrators clashed with police as they tried to break up the AfD's conference. About 500 people were briefly detained and 10 officers were slightly injured.
#MassArrests follow violent clashes at AfD_Bund</a> conference <a href="https://t.co/YXrVRs1Elm">https://t.co/YXrVRs1Elm</a> <a href="https://t.co/8BQpFetzMT">pic.twitter.com/8BQpFetzMT</a></p>&mdash; Sputnik (SputnikInt) April 30, 2016
AfD has no lawmakers in the federal parliament in Berlin but has members in half of Germany's 16 regional state assemblies.
Set up three years ago, its has attracted support on the back of Europe's migrant crisis, presenting a growing challenge to Chancellor Angela Merkel's conservatives and other established parties ahead of the 2017 federal election.
Germany is home to nearly four million Muslims, about five percent of the total population. Many of the longer established Muslim community in Germany came from Turkey to find work, but those who have arrived over the past year (more than one million) have mostly been fleeing conflicts in Syria, Iraq and Afghanistan.