Kenya burns over a hundred tons of elephant tusks and calls for a worldwide ban on ivory sales
Comments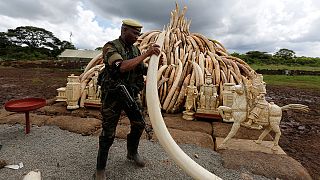 Kenyan authorities were preparing to burn a stockpile of over a hundred tons of elephant tusks on Saturday as a message to the world over the threat to animals from poaching.
Officials believe it to be the largest single destruction of ivory in history.
#IvoryBurn Can burning #ivory really help end #poaching? #WorthMoreAlivehttps://t.co/kjFxR8DqW3pic.twitter.com/1GTie5ToMu

— dwnews (@dwnews) April 29, 2016
Conservationists say elephants could become extinct in the next 50 years.
Kenyan President Uhuru Kenyatta is supporting the call for a worldwide ban on ivory sales:
"There is convincing evidence that poaching is aided by international criminal syndicates. If fuels corruption. This directly threatens the capacity of our nations to achieve sustainable and meaningful social economic development."
The number of elephants in Africa has plunged from 1.2 million in the 1970s to around 400,000 today.
Poaching for ivory resulted in the deaths of over 30,000 elephants a year from 2010 to 2012. The future for rhinos is even more bleak unless action is taken and is successful.
Demand for ivory, especially in China, is fuelling the poaching. Kenya wants to see a ban all sales of ivory, even in markets legal at present.
Conservationists want to see more prosecutions of poachers and deeper cooperation across boarders to catch offenders.