The world's greatest goalscorer - remembering Hungary's Ferenc Puskas
Comments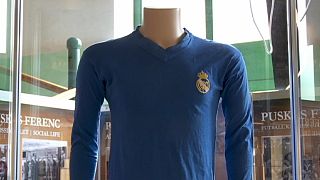 He won a reputation as the world's greatest goalscorer. It is 50 years since Hungarian footballer Ferenc Puskas took to the pitch for the last time for Real Madrid.
He died in 2006, but the memory of his success on the pitch lives on – a true legend in football history.
To mark the half century anniversary, his original kit has gone on show in the Hungarian capital Budapest.
"With him (Puskas) I have unforgettable memories. I truly believe that it will take a few decades in Hungary but also elsewhere in the world for a legend like him to be born again, a good man and a football player at the same time," said Kálmán Mészöly, a former football player and coach.
It was a golden age for Hungarian football during the era of Puskas.
One the country hopes will be a source of inspiration as it competes in the upcoming European Championships for the first time in decades.
"Through success, there might be some other idols in Hungarian football which is very important for children," said Roland Juhász, a member of the Hungarian national football team.
"We want more and more Hungarian children to play sports and these events can make them start this adventure called football."
Hungary's football fans will be hoping there will be plenty to raise a glass to in this year's Championships – success that Ferenc Puskas would be proud of.