Simplify MPs expenses to improve transparency, says campaigner
Comments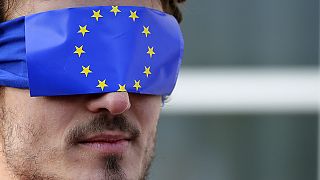 Transparency experts have called for reform of the 'complicated' system governing MPs' expenses in the EU.
An investigation by Euronews found parliamentarians across the bloc were riding an 'accountable' structure of perks that allows them to pocket tens of thousands of euros on top of their basic salary.
It found in several EU states – including Italy, Belgium, France, Germany and Spain – MPs were handed cash lump sums to cover their general expenses, sometimes without the obligation of having to account for what they spent the money on.
MPs in some countries can nearly earn their salary again in expenses, while in others parliamentarians can be 'compensated' for living away from their families or reimbursed for running two households, shining a light on the myriad of perks on offer.
Daniel Freund, head of advocacy at Transparency International's EU office, told Euronews: "It's more the things that are annexed to the salary.
"We think it should be transparent what MPs earn so we should get rid of this complicated system of dozens of allowances where additional revenue comes in that's not very transparent for voters or civil society.
"Those things should definitely be reformed."
Britain is one of few EU countries that does not hand its MPs money for general expenses, following recent reforms.
It came after the Daily Telegraph newspaper uncovered a massive expenses scandal, including one MP who claimed reimbursement for a duck house for his garden pond.
It means instead of claiming cash under general expenses linked to their work, they have to charge them to specific accommodation, travel or office budgets, up to a maximum amount.
And it's a system Freund thinks should be adopted elsewhere in the EU.
He added: "I think so [that EU should replicate reform in the UK), these things can also decrease the administrative burden as well.
"For an administration of course to go through thousands and thousands of receipts and then each time make a decision, is just a giant waste of resources and creates all kinds of other administrative problems.
"It seems it's often easier to define a baseline salary and then define a pot of money that can be used for the office or the constituency and then avoiding to dealing with hundreds of receipts for paper and toner and whatever else one needs in an office. That seems to be a good avenue (to go down)."