Belgium gives everyone radiation protection pills
Comments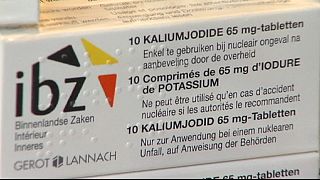 Belgium is to supply iodine pills to all its 11 million inhabitants to help protect against radioactivity in the event of a nuclear accident.
Iodine helps reduce radiation build-up in the thyroid gland.
Previously the country only gave pills to people living near to its seven reactors over three sites at Doel, Tihange and Mol.
"Before the iodine pills were only given to people living within a perimeter of twenty kilometres", said Belgian Health Minister Maggie De Block. "Now we are going to take measures for people up to 100 kilometres. We'll provide iodine pills for the whole country."
The government says the new measures take into account reactors in neighbouring countries close to the Belgian border.
Earlier this month Belgium refused a German request to close down two of its oldest reactors temporarily because of defects found in their pressure vessels.