Amazon earnings jump, cloud services unit excels
Comments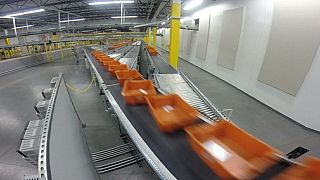 Amazon.com has reported profit and revenue vastly better than expected, giving its shares a big bump.
The standout was Amazon's cloud services division; revenues climbed 64 percent and it delivered more profit in the first three months of 2016 than the retail business.
It has captured close to a third of the fast-growing cloud-computing market, far ahead of rivals including Microsoft and Google.
Amazon proves cloud is a money-spinner as Q1 revenue hits $29.1bn https://t.co/YnPpWKNFPA#Amazon

— SiliconRepublic (@siliconrepublic) April 29, 2016
The company also offered a bright outlook for the current quarter, with revenue guidance for the current quarter of $28 billion to $30.5 billion (24.5 billion euros to 26.7 billion euros), compared to the $28.33 billion (24.8 billion euros) analysts had expected.
Founder Jeff Bezos saw his net worth shoot up with the increased share price. At $60 billion (52 billion euros) he is now the world's fourth richest person.
The results were in sharp contrast to the disappointing fourth quarter Amazon reported in January, which renewed worries among some shareholders about the company's comparatively thin profit margins.
Amazon's performance also reduced concerns about a broader slowdown among tech and internet companies after Apple, Microsoft and Intel all reported disappointing earnings.