Clashes in Paris at French labour reform bill protest
Comments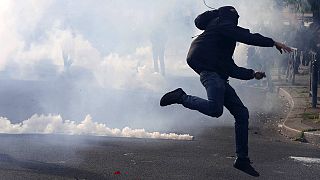 Police clashed with protesters in Paris on Thursday.
Thousands of protesters took part in a march against a labour reform bill in Paris on Thursday.
Police used tear gas to disperse protesters after several dozen people, many with their faces covered, started throwing objects at officers.
The bill is aimed at encouraging companies to hire., but opponents say it would worsen working conditions, make it easier for companies to fire workers and increase unemployment.
#Paris: Chants "we must hate the police" or "All cops are bastards" pic.twitter.com/APCCFO4jaH#manif28avril via ThomasBaietto</a></p>&mdash; Proletarian Rage (proletarianrage) April 28, 2016
"We remain determined, even if the word isn't used, so that the bill is completely reshuffled, modified, which is not the case today," said
Jean-Claude Mailly, head of Force Ouvriere union. "The government made concessions but that is not enough."
"Each time the unions are united, the chances to win are greater," said Philippe Martinez, head of the hardline CGT union. "That's what we noticed with the 'intermittents' [artists, culture workers and technicians who benefit from a special unemployment system to compensate their incomes] whose mobilisation led the bosses to propose a text that was acceptable for the unions."
France has seen a series of strikes and protests against the labour reform bill, which is set to be debated at France's lower house of parliament next week.