Bank of Japan says no more stimulus for now, markets and yen react badly
Comments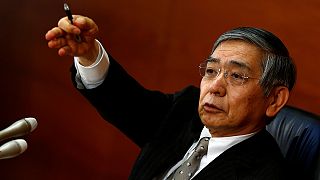 The Bank of Japan (BoJ) has surprised the financial world by doing nothing.
After its latest policy meeting there was no word on new monetary stimulus from Governor Haruhiko Kuroda, who did though leave the door open for more if the fragile economic recovery needs help.
He defended the decision to keep policy unchanged by saying a steady improvement in the country's economy means the bank can pause and study the effect of its past policy steps, including a negative-rate strategy introduced in January.
The hope is their previous cuts in borrowing costs will lead banks to lend more.
Statement on Monetary Policy https://t.co/vmXGM10DGE

— Bank of Japan (@Bank_of_Japan_e) April 28, 2016
The lack of action sent Japan's currency, the yen, soaring in value against the dollar and the euro and pushed down stock mark indexes worldwide.
The BoJ has been in a bind, with many central bankers worried about the gloomy outlook but increasingly reluctant to use their diminishing policy ammunition.
Kuroda tried to countering growing market views that he and his fellow policymakers are running out of options, saying he saw no trouble with the bank's bond-buying operations.
He also dismissed the idea of "helicopter money," or underwriting government debt so the money can go directly to citizens, saying that it was impossible to adopt it under current Japanese law.
"Having said that, I don't think there are limits to monetary policy."