Fencing: Vezzali swansong ruined by Russia triumph
Comments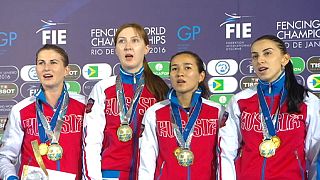 The test event for the Olympic fencing competition continued at Carioca Arena in Rio de Janeiro on Wednesday with the team world championships and naturally it was ladies first.
Russia and Italy made their way through to the foil final which marked the last international appearance of one of the greatest female fencers of all time – Valentina Vezzali.
The 42-year-old Italian has won 6 Olympic gold medals and 16 world golds during her career which unfortunately ended with a final defeat.
Russia exacted sweet revenge for last year's defeat in the showpiece match courtesy of a 45-39 victory this time around in Rio.
The defeat however didn't prevent the Italians celebrating the career of one of their greatest ever fencers.