Kenyan opposition calls for electoral commission to quit
Comments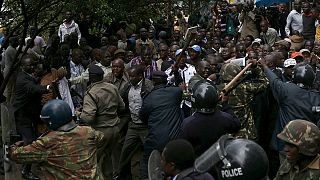 Kenya's opposition has called for the country's electoral commission to disband before next year's presidential vote.
On Monday (April 25) some 500 of their supporters marched on the commission's offices in Nairobi. They say they have no confidence in the organisation after it dismissed complaints of voting irregularities following the 2013 election.
Opposition Senator Bonny Khalwale rejected accusations that the opposition was trying to bring down the government.
" We are not overturning the government, we are saying the institution is rotten and it must go. Whether they like it or not this is just the beginning of our strategy."
IEBC needs to go but not through protests and mass action.They r laid down procedures about the same.Kenya is one and we must maintain peace

— Joseph Nungari (@JosephNungari) April 25, 2016
Following clashes Kenyan police used teargas to disperse the crowd and several protesters were arrested.
#Kenya's police quash electoral reform protests https://t.co/Pctu5tEX7gpic.twitter.com/TetW6IDaw5

— dwnews (@dwnews) April 25, 2016
The commission which formally known as the Independent Electoral and Boundaries Commission (IEBC) rejects the accusations and says if any party wants to eject its members it should petition parliament to remove them.
Election violence
In March 2013 the opposition rejected the outcome of the presidential election and petitioned the supreme court to overturn the result. The court upheld it.
Raila Odinga, the leader of the opposition and its presidential candidate accepted the court's decision and the victory of his opponent, Uhuru Kenyatta. By doing so he held avert the kind of violence that broke out after Kenya's 2007 election, when more than 1.200 people were killed.