Trump rubbishes Republican rivals over "collusion"
Comments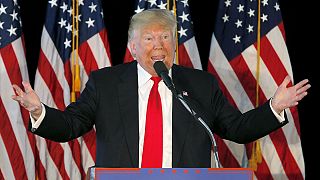 Donald Trump has attacked his Republican rivals for teaming up to stop him from winning the party's presidential nomination.
The front-runner in the race says "collusion is often illegal in many other industries and yet these two must in order to stay alive."
Ted Cruz and John Kasich are coordinating their efforts in three upcoming state primaries to try and defeat him.
The Ohio governor says its a good way of saving money: "We don't have all the resources in the world, but we're still going and we have to husband our resources. And I feel that it's very fair for me to be able to go to areas where I can spend my resources most effectively, and the same is true for Senator Cruz.
"What's the big deal? We're going to go to a convention. It's going to be an open convention and then the delegates will pick that person who can do the best in the fall," added Kasich.
Cruz and Kasich's deal comes as a handful of mid-Atlantic states prepare for primary elections on Tuesday.
Republicans will pick their delegates in at least four states this weekend, including Alaska, Arkansas, Arizona and Virginia.