Philips split: IPO likely for lighting division
Comments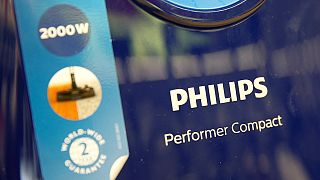 Philips is looking to turn its lighting division into a standalone company and has confirmed that will almost certainly be done through an initial public offering of shares to investors.
The Dutch group started out making lights in 1891 and that part of the business is now worth an estimated five billion euros.
As a standalone it would be the world's largest lighting maker.
Most of Philips' profit now comes from its healthcare operations followed by consumer products.
It has just published better than expected earnings for the first three months of the year – up 14 percent at 290 million euros before interest, taxes and amortisation.
Philips reports first-quarter sales of EUR 5.5 billion and adjusted EBITA of EUR 374 million #Q1https://t.co/ChskNQrBMQ

— Philips News (@PhilipsPR) 25 April 2016
Chief Executive Frans van Houten said the company's outlook for 2016 remains unchanged, as most of its earnings improvements will come in the second half of the year due to "macro-economic headwinds" and costs it is taking in the first half related to the separation of the lighting group.
In 2014 Van Houten had announced plans to separate lighting saying healthcare technology will now be its primary focus. But the process has taken nearly two years as the company prepared both for an IPO and a direct sale of lighting, whichever was more advantageous for shareholders.
"With equity markets' sentiment improving compared to the first couple of months of the year, an IPO increasingly appears a more likely outcome," the company said on Monday.
"Philips expects to update the market on conclusions and next steps shortly."