Bogdan Nikishin strikes gold at Rio Grand Prix
Comments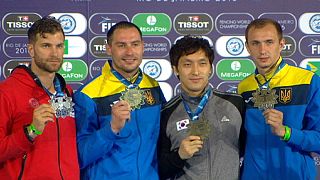 Ukraine's Bogdan Nikishin defeated Switzerland's Benjamin Steffen to strike Epee gold at the Rio Grand Prix, which is also acting as a 2016 Olympic test event.
The 35-year-old who won team gold at last year's World Championships in Moscow, was in fine form throughout the tournament which saw none of the worlds top ten fencers make it to the semis.
Nikishin beat world number eight, Daniel Jerent, and top-ranked Gauthier Grumier en route to the showpiece match, where he was pushed all the way by Steffen at the Carioca Arena.
In a thrilling finale Nikishin – the world number 15 – almost let a three-point lead slip away before eventually prevailing 15-13.