Spurs beat Grizzlies to close in on playoff clean sweep
Comments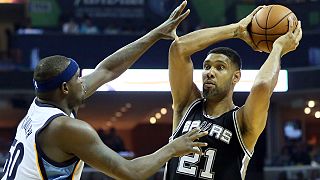 The San Antonio Spurs tightened their grip on their best-of-seven playoff with the Memphis Grizzlies after taking a 3-0 lead after game three.
The five times NBA champions didn't appear to be firing on all cylinders but Kawhi Leonard picked up most of the slack with a fine individual display on the road at the FedEX Forum in Memphis.
Leonard scored 32 points on the night, LaMarcus Aldridge added 16 points and 10 rebounds while both Danny Green and Manu Ginobili each chipped in with 11 points as the Spurs sueezed through 96-87 winners.
Zach Randolph led Memphis with 20 points in defeat.
The Spurs now boast a commanding 3-0 lead in their Western Conference first-round series and can seal the playoff with victory in Game four which stays in Memphis and takes place on Sunday.