Brussels airport won't re-open fully before summer holidays
Comments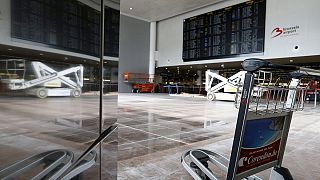 One month on from the terrorist attacks in Brussels, reconstruction work on the airport continues.
Authorities say they aim to have it back to running at maximum capacity before the start of summer holidays at the end of June or early July.
Thirty two people died in three bomb attacks at the airport and on the metro. Hundreds more were injured and dozens are still in hospital.
One of the airport suicide bombers has been identified as having kept guard over four French hostages in Syria.
Twenty four year old Najim Laachraoui died after detonating his bomb in the airport.
A lawyer for two of the former hostages, freed in April 2014 after spending 10 months in captivity, said she could confirm he had been their captor.
On Friday, members of the European Commission gathered outside the entrance to the Malbeek metro station to pay tribute to those who died there. The station is due to reopen on Monday.