Paris climate accord is signed by record 175 countries
Comments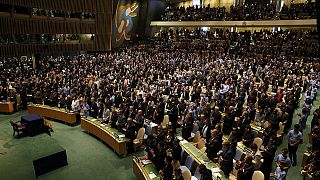 As Earth Day was being observed around the planet on Friday, a record number of 175 countries signed the historic Paris accord to slow global warming.
Both China and the United States, the world's top producers of greenhouse gas emissions, pledged to formally adopt the deal by the end of the year, raising the prospect of it being enforced much faster than anticipated.
US Secretary of State John Kerry brought his young granddaughter along to the signing ceremony at UN headquarters in New York, sitting her on his knee as he put pen to paper, in a symbolic gesture to stress the pact's importance for future generations.
Sec. Kerry signs climate deal with his young granddaughter seated in his lap: https://t.co/zczErMQvi8https://t.co/bTzGZa4wZ8

— ABC News (@ABC) 22 avril 2016
It was the biggest ever day one endorsement of a global agreement.
Children flood UN</a> GA Hall before beginning of signing of <a href="https://twitter.com/hashtag/ParisAgreement?src=hash">#ParisAgreement</a> w/ first signatory Pdt Hollande <a href="https://t.co/kCuKeSKp3U">pic.twitter.com/kCuKeSKp3U</a></p>&mdash; United Nations Photo (UN_Photo) 22 avril 2016
For French President Francois Hollande, who hosted the talks in the wake of last November's terror attacks, this was a moment of satisfaction.
"Never in the history of the UN has it been possible to bring together 170 states to sign an agreement," he said.
"So this is now more than a commitment. This will be a text irreversibly written into international law."
There was, however, a warning from film star Leonardo Di Caprio, who has been designated a UN Messenger of Peace with a special focus on climate change.
"We can congratulate each other today, but it will mean absolutely nothing if you return to your countries and fail to push beyond the promises of this historic agreement," he said.
"Now is the time for bold, unprecedented action".
Many countries still need a parliamentary vote to formally approve the deal, which commits nations to restraining the global rise in temperatures to "well below" 2 degrees Celsius above pre-industrial levels.
But even if the pact is fully implemented, promised greenhouse gas cuts are insufficient to limit warming to an agreed maximum, the United Nations says.
The sense of urgency is heightened by the statistics.
The first three months of 2016 have broken temperature records and 2015 was the planet's warmest year since records began in the 19th century, with heat waves, droughts and rising sea levels.