ESA's satellite launch postponed
Comments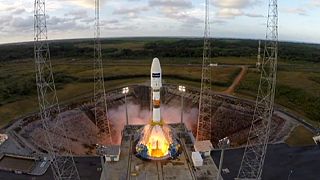 Europe is set to have a new eye in sky and it is all about making life safer for all of us, says the European Space Agency.
The Sentinel 1-B is packed with the latest technology and is due to blast off on board a Soyuz rocket from French Guiana on Saturday (April 23) evening.
It is the latest component in the Copernicus Earth environmental monitoring programme.
"There are a lot of applications which have to do for example with detecting landslides, inundations, or ground movements. This brings me also to the emergency services, we support all these type of emergencies. When there is an earthquake we can make maps of the ground movements, before and after. We can look at ice maps for drifting ice which might endanger shipping. Oil spills can be observed very well with radar," says ESA's Director of Earth Observation Programmes Volker Liebig.
Sentinel will be able to peer down through thick clouds, see though ice, and provide highly accurate 3D maps that will be of help to sailors, farmers, animal herders, firefighters, weather forecasters and rescue workers.
Weather conditions meant Sentinel's launch on Friday (April 22) was postponed until Saturday.