Amnesty accuses Nigerian army of mass murder
Comments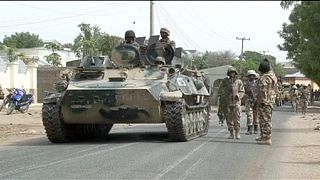 Human rights organisation Amnesty International has issued a report accusing the Nigerian army of the massacre of 350 people in the north of the country in December.
The alleged massacre followed a raid against Islamic militants in Zaria, after which the Nigerian senate set up an inquiry which has yet to report.
The Amnesty report, entitled "Unearthing the truth – Unlawful killings and mass cover-up in Zaria" is scathing in its criticism.
It includes satellite pictures Amnesty says shows the before and after of the alleged site of a mass grave that Amnesty says is full of civilians.
Zaria is a city of over 600,000 people in the mainly Muslim north of the country where Boko Haram has been rampaging, extending its areas of control inside which it upholds sharia law. The Nigerian army has been attacking it repeatedly.
Amnesty said it interviewed 92 witnesses and members of the Shia Muslim minority sect that was allegedly targeted by the army. The army has dismissed the report as "hasty and biased".