Mexico: three dead, over 130 injured in Pemex chemical blast
Comments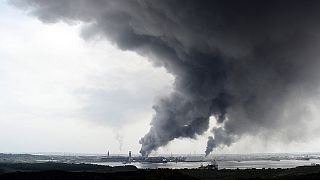 A large explosion at an oil facility in southeastern Mexico has killed at least three plant workers and injured 136.
Hundreds of local were evacuated as a cloud of toxic substances, including reportedly the industrial chemical vinyl chloride or chloroethene, was sent soaring into the air.
The petrochemical plant in the port city of Coatzacoalcos in the state of Veracruz is a joint venture between Mexico's state oil company, Pemex, and a plastic pipe maker, Mexichem, which reportedly managed the area where the blast happened.
As worried family members gathered at a local hospital, a hand-written list of the injured was posted on a noticeboard. The company said 88 people remained in hospital.
The cause of the explosion is not yet known. Pemex initially warned residents to keep away from the site because of the toxic cloud. Later the company said in a statement (in Spanish) that the situation was "under control and there is no risk to the population". An official said local oil exports were unaffected.
Smoke from #explosion at Mexican national #oil company #Pemex's #Pajaritos petrochemical complex in #Coatzacoalcospic.twitter.com/8SUZjKLOFk

— The Gulf Today (@thegulftoday) April 21, 2016
There have been several fatal accidents at Pemex premises in recent years.
Only three weeks ago three workers were killed and seven injured when a fire broke out on a Pemex oil-processing platform in the Gulf of Mexico.
In September 2012, 26 people died in a Pemex natural gas facility in northern Mexico.
In 2013, Pemex's headquarters in Mexico City was hit by a massive gas explosion that killed 37 people.
The company is implementing deep cuts to cope with the rout in oil prices, and is trying to stem a slide in output.
For decades Pemex enjoyed a monopoly over Mexico's oil and gas industry, until an energy reform opened up the sector to competition in 2014.