Yemen peace talks set to start on Thursday
Comments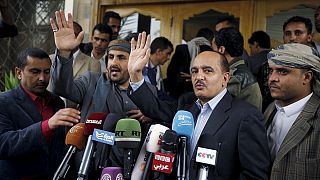 Talks to end the war in Yemen are set to get underway in Kuwait later on Thursday (April 21).
The UN-backed talks were supposed to start on Monday, but representatives of the Iran-allied Houthi movement and former Yemini President Ali Abdullah Saleh did not turn up.
"They [the delegation] are expected to develop a framework that paves the way for a peaceful and orderly process based on the Gulf Cooperation Council initiative and the outcomes of the National Dialogue Conference," saidUN spokesman Stephane Dujarric.
For over a year, a Saudi-led coalition has been fighting Houthi rebels and their allies who control much of the country.
Both sides have accused each other of violating a temporary ceasefire.
"As long as aggression continues, the army and the people's militias need to be careful, because they're not committed to the ceasefire despite pledges we received from many countries," said official Houthi spokesman Mohammed Abdel-Salam.
Meanwhile in Britain a parliamentary inquiry is investigating the use of UK-manufactured weapons in the conflict.