Africanews launches to 7 million homes across Africa
Comments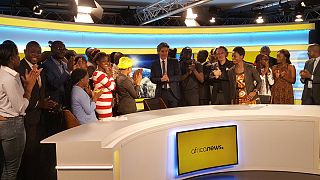 Africanews, the sister network of euronews, launched from the Republic of the Congo on Wednesday (April 20).
Africanews aims to give Africa its rightful place in the world of news.
Billed as a "new voice" and broadcasting from the city of Pointe-Noire in the Republic of the Congo Africanews is designed to be the first pan-African multilingual news service.
Micheal Peters, CEO of Africanews and euronews, and editors-in-chief Veronica Kwabla and Nathalie Wakam presented the team of journalists at a news conference in the city of Pointe-Noire.
Africanews says it adheres to the same editorial charter as euronews. One based on freedom of expression and editorial independence, limited only by respect for the facts.
"We want to cover the entire continent of Africa," said Wakam. "I also want to mention its independence. We've been on the internet for a few months. It's good to decide the editorial line every day without without pressure from anybody. "
"We give our viewers the facts," said Kwabla. "We don't give them what to believe, we just show them the facts and then they form their own opinions."
"Today, with the creation of Africanews, we have really become a global organisation with two strong sister brands: euronews and Africanews," said Peters, adding that creating Africanews — the point of view of Africans in Africa and in the world — positions our organisation as one that defends multiculturalism and diversity of perspectives.
Africanews is funded by a combination of advertising, distribution and production revenues.
#AfricanewsOnAir L'équipe web d'africanews</a> dans les coulisses du lancement Africanews TV <a href="https://t.co/VXaWcLs78P">pic.twitter.com/VXaWcLs78P</a></p>&mdash; africanews (africanews) April 20, 2016