US to boost troops and equipment in Iraq in fight against ISIL
Comments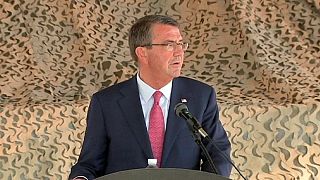 US to boost troop deployment in Iraq to 4,100
Apache attack helicopters to be sent to take on

ISIL

Peshmerga to get $400m in assistance
The United States is to beef up its presence in Iraq to help in the fight against the Islamist extremist group ISIL.
On a surprise trip to Baghdad, US Defence Secretary Ash Carter announced in a meeting with Iraqi Prime Minister Haider al-Abadi that more military advisors are being sent near the frontlines, raiding the US deployment to over 4,000.
Defense Sec. Ash Carter announces US will send more than 200 advisers to Iraq to fight ISIShttps://t.co/oDSwtihFngpic.twitter.com/wceTAmuWRl

—

ABC

News Politics (@ABCPolitics) April 18, 2016
Alongside the additional troops, Apache attack helicopters will be deployed for the first time against ISIL in Iraq.
The US is leading an international coalition that has been bombing ISIL targets since August 2014.
ISIL seized large areas of Iraq, north and west of Baghdad, in 2014, but Iraqi forces have recaptured significant ground from the jihadists in recent months.
Ash Carter also said there were plans to give Kurdish Peshmerga forces, more than $400m (€350m) in assistance:
"Really importantly, we're going to provide financial assistance to the Peshmerga, this with agreement of Prime Minister Abadi, which is how we do everything here, to bolster what has been, namely the Peshmerga, one of the most effective fighting forces against ISIL," said Carter.
Co-operation between the two forces was evident on Monday when Kurdish officials said they had killed a senior ISIL commander in the south of Mosul in a joint raid with US special forces.
Last week President Obama claimed to have ISIL on the back foot in a progress report. The new military aid should help Iraqi forces as they try to retake Mosul which is still under Islamic control.
Excellent summary of fight against ISIL in Iraq on the road to Mosul. https://t.co/yDNWp3uv09

— Carl Woog (@CarlWoog) March 30, 2016