Trump towers in New York Clinton and Sanders in tight race for the five boroughs
Comments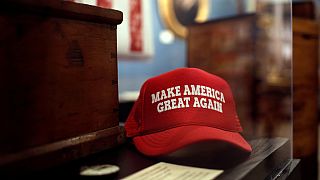 Fighting for the Democratic presidential nomination Bernie Sanders addressed supporters in the city of his birth, New York City ahead of the states primary.

How BernieSanders</a>&#39; Brooklyn rally was one of his biggest ever: <a href="https://t.co/8FXmu9l4ih">https://t.co/8FXmu9l4ih</a> <a href="https://t.co/fuyNVWWdCY">pic.twitter.com/fuyNVWWdCY</a></p>&mdash; CBS News (CBSNews) April 19, 2016
Sanders, closing the gap on Hillary Clinton, took a swipe at his rival for not revealing her speeches to Wall Street and the $15m she has raised for her campaign from the financial institution.

.HillaryClinton</a> tries "bubble tea" in NYC: <a href="https://t.co/FXL0MgADdp">https://t.co/FXL0MgADdp</a> <a href="https://t.co/clqvEHZ2Zw">pic.twitter.com/clqvEHZ2Zw</a></p>&mdash; MSNBC (MSNBC) April 19, 2016
Hillary Clinton, is still expected to win the Democratic nomination, and the New York Primary. She served as Senator for the Big Apple between 2001 and 2009.
Speaking at the Yonkers Hospital Clinton criticised derisive comments made by the Republicans against the hard working people of the city.
Republican frontrunner Donald Trump is on the brink of a huge victory in New York he has a double-digit lead over his opponents.

At a campaign rally, Donald Trump misspoke about terror attacks on "7/11" instead of 9/11 https://t.co/1pnLpxBUTLpic.twitter.com/KIfpJZFbWw

—

CNN

(@CNN) April 19, 2016
Trump holds sway in the upstate rural regions, but is deeply unpopular in the heart of the diverse metropolis.
Ted Cruz is fighting a lost cause in New York he slammed Trump for his "New York values" suggesting Trump is out of touch with the conservative thinking across the rest of the country.

Carl Cameron: "Average of recent polls shows [realDonaldTrump</a>] way ahead of OH Gov <a href="https://twitter.com/JohnKasich">JohnKasich & TX Sen tedcruz</a>." <a href="https://t.co/YMe9gLWcUT">pic.twitter.com/YMe9gLWcUT</a></p>&mdash; Fox News (FoxNews) April 18, 2016
Trump is expected to pick up all 95 delegates up for grabs.