Djokovic and Williams win Laureus sportsman and sportswoman award
Comments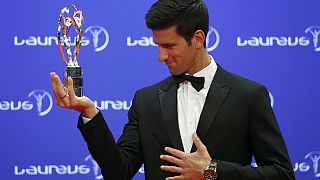 The world's top male and female tennis players Serena Williams and Novak Djokovic won the Laureus sportsman and sportswoman awards for 2016 at a gala in Berlin on Monday.
Both had already won the prize twice before.
Williams was unable to attend the award show but on receiving his accolade Djokovic deviated from his prepared speech to pay tribute to three times F1 World Champion Niki Lauda who received the Laureus lifetime achievement award, and to the late Johan Cruyff.
Djokovic said: "I dedicate this award to two people who have inspired me not only tonight but throughout their lives and careers in so many different ways and I want to thank them for the legacy, I want to thank them for their wisdom and for blessing us with their wonderful words which we are all going to follow – at least I am, Mr Niki Lauda and Mr Johan Cruyff. Thank you so much."
Legendary Dutch footballer and visionary coach Johan Cruyff sent the sports world into mourning when died of cancer in March.
He was posthumously awarded the Spirit of Sport award.
His son Jordi received the award on his behalf and gave a heartfelt and moving tribute to his father and arguably the finest footballer of all time.