Cuba's Castro brothers to "give way to a younger generation"
Comments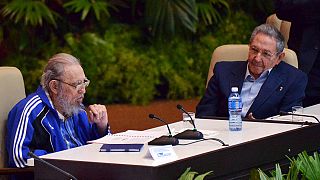 Former Cuban leader Fidel Castro stole the show at the five-yearly Communist party Congress in Havana as he made a rare appearance along side his brother.
Fidel Castro, 89, appears at Cuba's Communist Party Congress to congratulate brother Raul https://t.co/7M9pXPplfPpic.twitter.com/tBeRrudJyC

— Ron Brackett (@rontimes) April 19, 2016
Current party chief 84-year-old Raul who was reelected for a second term said this year's Congress would be the last led by the current group of revolutionary leaders.
Fidel imparted his own message:
"This could possibly be one of the last times that I speak from this room. I have voted for all of the candidates who have been submitted by Congress and I am thankful for the invitation and the honour of you all listening to me. I congratulate everyone but firstly, comrade Raul Castro for his magnificent efforts."
Fidel Castro has been in retirement since handing over power in 2008 after running the country as a dictator since the revolution against a US backed government in the 1950s.
Raul Castro has always been seen as a pragmatist who built Cuba's army and brought efficient management to some of the military's powerful companies during long years in the shadow of his brother Fidel.
But it is also Raul who has recently ordered market reforms to the economy and has overseen the thaw with the United States that led to Barack Obama to become the first US president to visit Cuba in 88 years.
During the weekend's Party Congress Raul went on to propose age limits on top officials – his number two is 85, and to widen diversity by including women onto the powerful political bureau. It seems Cuba's modernisation is to mean more than just market reforms.
995 delegates at the opening session of the 7th Congress of the Communist Party of Cuba #7CongresoPCC#Cubapic.twitter.com/3ePkm1nIaC

— Cuban Embassy in US (@EmbaCubaUS) April 16, 2016