No crude freeze deal, what does it mean for the oil industry?
Comments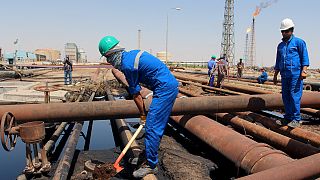 OPEC and non-OPEC producers on Sunday failed to reach a deal to freeze oil output. For background and analysis euronews' reporter Natalia Marshalkovich spoke with Spencer Welch, a director with IHS Energy in London.
Euronews: "Why couldn't the oil producers reach any agreement? Could they ever have found a compromise with Iran not taking part?"
Spencer Welch, IHS: "Certainly, it was very difficult without Iran, until the last minute it wasn't clear whether Iran was going to go or whether they were not going to go, but quite a way in advance of the meeting Saudi Arabia had said they were not going to freeze production if Iran was not not involved. And Iran said they were not going to freeze production because they are still trying to recover their market share after the nuclear sanctions have been removed."
Euronews: "We have seen already the first market reaction. And how it would affect the global oil market in the medium term?"
Spencer Welch, IHS: "Prices dropped this morning (Monday) by around $2 per barrel as a reaction to the Doha meeting. Actually the prices would probably have dropped by more than that but there is a production problem in Kuwait, so that's providing some positive support. But even with that prices dropped by $2 a barrel. So prices are going to be lower for another couple of months, into the second half of this year until the market more naturally comes back into supply-demand balance."
Euronews: "What could we expect from the next OPEC meeting in June? Could they freeze or even cut production?"
Spencer Welch, IHS: "I think what the meeting on Sunday has shown us is that until Iran is back up at the levels of production that it was before the nuclear sanctions [were imposed] so in 2010 when it was producing 4 million barrels per day, so until Iran has recovered its production level and is at a flat and stable production level, no deal is going to be done.
"It's going to be quite some time. I think is unlikely that anything would happen at the OPEC meeting in June, because in June Iran will still being trying to recovery its market share, so Saudi Arabia still will not be willing to come to a deal.
"It going to take some time now before Iran is back up at its normal production rates before any sort of deal could be done. By then, the market is likely to come back into supply-demand balance by itself.
Euronews: "When could the market rebalance itself?"
"We think at the second half of 2016, so later on this year. At the moment, as you said, the market is oversupplied, but production is declining, particularly from the US. They peaked last year and it is down by more than 500,000 barrels per day of production and that is being driven down by the low oil price.
"Demand is increasing. So, supply is dropping, demand is increasing and the market is heading back towards being in a balanced position and we expect that to rebalance in the second half of this year."