Two European parliament drivers carrying ISIL propaganda - reports
Comments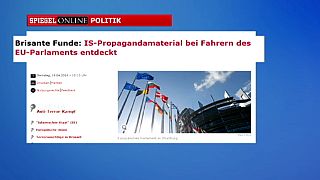 Two drivers for a private company serving the European parliament have been found carrying compact discs containing propaganda for militants from the so-called Islamic State (ISIL), according to Germany's Der Spiegel magazine.
Citing several unnamed sources, Der Spiegel said both drivers – one in Brussels, one in Strasbourg – had been dismissed and Belgian police were investigating.
The European parliament declined to comment because of security considerations. Belgian police were not immediately available for comment.
Given other indications that some drivers had criminal backgrounds, Der Spiegel said the European parliament had decided on Monday to no longer employ private personnel but only drivers directly employed by the legislature, at an extra cost of 3.7 million euros.
The magazine said 65 drivers currently worked in Brussels for the 751 European parliamentarians and 85 in Strasbourg, in addition to 23 drivers employed by the parliament.
Belgium is on high alert after suicide bombers killed 32 people and injured scores of others in attacks in Brussels airport and a metro train last month.
Reuters