Two years since South Korean ferry tragedy
Comments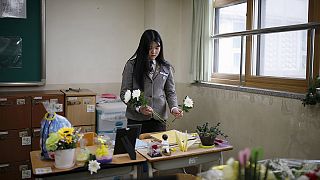 Where are you, my son? I have come to see you!
Thousands gather for memorial service
Sewol to be refloated this summer
Relatives speak of a "lack of transparency"
What is happening?
The families of passengers who drowned when a ferry sank off the coast of South Korea two years ago have gathered for a memorial service in memory of their lost relatives.
Two years ago, 304 people died on board the #Sewol. The ferry is still underwater with bodies still missing pic.twitter.com/TpiqvlFpZe

— Joseph Kim (@josungkim) April 16, 2016
It's been 2 years since Sewol Ferry tragedy.
We will never forget #pray#Remember0416pic.twitter.com/SBBH390KG3

— minguk is asking❓ (@Kpop_Polling) April 16, 2016
2,500 people were at the ceremony.
Thousands of yellow balloons were released in tribute.
What happened to the ferry?
The Sewol sank off the island of Jindo on April 16, 2014.
There were 476 passengers on board.
304 lost their lives.
A father at a classroom his son attended before #sewol two yrs ago. Danwon high school's 250 students died that day. pic.twitter.com/yBkCI1tXhl

—

LIM

Yun Suk (@yunsukCNA) April 16, 2016
Many of them were high school students who were on a field trip to a nearby island.
Most of the victims have been recovered.
However, nine are still missing.
Why did it sink?
SKOREA – People pay tributes for the victims of the sunken South Korean ferry Sewol in Ansan. By Jung Yeon-Je #AFPpic.twitter.com/7pebRc5wEQ

— Frédérique Geffard (@fgeffardAFP) April 16, 2016
Human error has been blamed.
The cargo hold was badly designed and overloaded.
The crew was inexperienced.
What do the relatives want?
#SouthKorea to Lift #Sewol#Wreck in July https://t.co/Xp10X9RRvIpic.twitter.com/zPBM5ceULW

— World Maritime News (@worldmaritimene) April 15, 2016
They would like the 6,825 tonne vessel to be refloated.
It is hoped the bodies of the nine missing victims can then be recovered.
A Chinese company has been appointed to carry out the 64-million-euro salvage operation.
It is hoped work will begin in May and finish in July.
The 145 metre-long vessel lies in 40 metres of water. There are concerns it make break up into pieces during attempts to re-float it.
What they are saying
"We are re-floating the wreck so we can give the nine missing bodies back to their families" – Yeon Yeong-Jin, South Korean Maritime Ministry
"Unfortunately, there are no guarantees and we can only do what we can to minimise the risk" – Simon Burtheim, the marine architect who is overseeing the operation.
"I have stared at the sea for the last 730 days. I know where she is but I cannot reach her." – Lee Keum-Hui lost her 16-year-old daughter in the tragedy.
"Everything is being done behind closed doors and the families are not allowed to be present during the operation" – families' representative Jung Seong-Wook says the inquiry lacks transparency.