Meldonium doping suspensions for 14 athletes lifted, as WADA loosens policy
Comments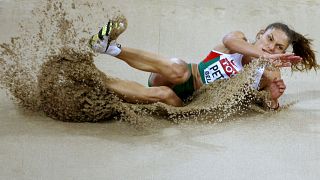 At least 14 Russian and Georgian athletes banned for meldonium had their suspensions lifted late on Friday, two days after the World Anti-Doping Agency (WADA) loosened their policy on the substance.
Meldonium was added to the prohibited list at the start of this year, but a lack of scientific evidence on how long it remains in the body, as well as claims that some athletes who tested positive had stopped taking the drug while it was still legal, prompted WADA to change tack on Wednesday.
WADA ruled that a "no fault" or "negligence" verdict could be reached in the cases of athletes where less than one microgram of meldonium was detected in tests conducted prior to March 1, meaning those athletes could face little or no punishment and be able to resume their careers.
Six Georgian wrestlers, including Olympic silver medallist Davit Modzanashvili and European silver medallist Beka Lomtadze, have had their temporary suspensions lifted as a result of the ruling.
"In their blood, less than one microgram of meldonium was found," said Temuri Ukleba, vice-president of the Georgian anti-doping agency. "They took it before the ban."
The Russian Anti-Doping Agency (RUSADA) separately lifted suspensions on eight athletes including Nadezhda Kotlyarova, a semi-finalist at the 2015 IAAF world championships in Beijing.
Cyclists Anastasia Chulkova and Pavel Yakushevsky, alongside a skeleton racer and a bobsled athlete, have also had bans lifted, while Olga Vovk, Gulshat Fazletdinova and Andrei Minzhulin made up the remainder of those reportedly given the green light to return to competition.
The announcements came as the International Weightlifting Federation earlier this week confirmed Belarus' two-time Olympic medallist Andrei Rybakov had his suspension for meldonium lifted.
Not all Russian athletes who tested positive for meldonium, however, have been as fortunate, after swimming's world governing body FINA said on Friday five-times world champion Yulia Efimova would not be granted amnesty despite the WADA clarification.
Lifting a provisional suspension does not mean the case is dismissed for good, but athletes are generally authorised to compete and train with their national teams until a decision is made in full.
Furthermore, WADA's new stance on meldonium means more bans for the drug are unlikely, especially for those cases without concrete evidence of guilt.