The second anniversary of the kidnapping by Boko Haram of the "Chibok Girls"
Comments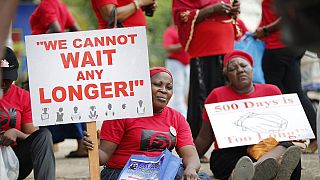 They have become the most notorious victims of the Islamist extremist group Boko Haram and known as the Chibok girls. The group has made kidnapping a weapon of war and the abduction of the 276 girls came as Boko Haram was growing in strength and capturing territory.
They were seen in a video shot by their captors. Abubakar Shekan the head of Boko Haram said they would be released in exchange for prisoners.
On the night of April 14 2014 Boko Haram militants stormed the remote town of Chibok in northeastern Nigeria. They kidnapped 276 school girls mostly aged between 16 and 18, from a secondary school. The pupils were taken from their dormitories. About 50 of them managed to escape but 219 were captured.
The town was in shock, the parents of the girls were desperate and felt helpless in the face of no action from the Nigerian government. Shock waves spread across the globe.
Those who had escaped and their families met with the then President of Nigeria Goodluck Jonathan. Despite the blaze of publicity which had followed the kidnapping he had declined to comment for almost three weeks.
He, the government and the military faced severe criticism for their handling of the incident and Goodluck Jonathan became the first sitting Nigerian president to lose an election in 2015.
On the first anniversary of the abduction on April 14 last year and despite a campaign #Bringourgirlsback which spread beyond the borders of Nigeria there was no news of them. There had been rumours of sightings in neighbouring countries but none turned out to be true. It had been 365 days of agony. The families vowed to fight on.
"We are hoping that Mr. President will keep his word by bringing the girls alive before leaving office on 29th May 2015. Even if he fails to achieve it we are hopeful that the president-elect will bring back our girls alive," Battah Ndirpaya National Secretary Kibaku Area Development Association said at the time.
Then in the spring of 2015 there was a moment of hope. The Nigerian army managed to free 275 women and children who had been held captive by Boko Haram in the Sambisa forest, a stronghold of the armed militants. But there was no trace of the schoolgirls among them or any news of the group.
In January of this year the new President Muhammadu Buhari reopened the investigation into the kidnapping but it has failed to find the girls. For parents like Esther Yakubu there will be no respite until her daughter returns.
"I miss my baby really because she means the whole world to me. The happiness in me, the joy in me, is no more. I don't think I'm a complete human being without my baby. We know we will not get all of them, but we want to see even one so that she will tell us the story of what happened to the others. So if this Boko Harem are defeated without our girls I don't think Boko Haram is defeated."