Home advantage counts for Vitoria and Kuban in Euroleague
Comments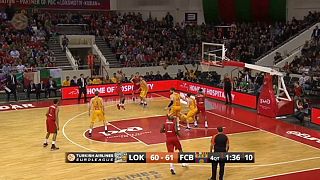 More than beginners luck has taken Lokomotiv Kuban Krasnodar to this stage of the Euroleague, and the newcomers showed Barcelona in their first of five playoff matches that they are a force to be reckoned with, winning 66 to 61.
The Russians will retain home advantage for the second match, too, and have all the momentum after stunning the Catalans with an eight point final push in the last four minutes that went unanswered to seal the game.
Visitors Panathinaikos took an early lead and might have scented a better night ahead, but were steamrolled in the end by Vitoria 84-68 as the Basques called time on their siesta to take the tie.
In fact they retook the lead in the 10th minute and then rarely looked like losing it, stretching it to double figures in the second quarter before putting the Greeks to the sword in the third.