Gloomy outlook for Greek economy as recession bites deeper
Comments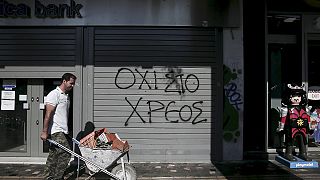 The Greek economy looks set to shrink by 1.0 percent this year putting a further squeeze on ordinary Greeks and businesses after a 0.3 percent contraction in 2015.
Από #protothemagr : Economic Foundation (IOBE) gloomy forecasts for Greek… https://t.co/VnEyfPzslP#Retweetnews24hpic.twitter.com/Xg7iWbdB9X

— Retweet News 24h (@RetweetNews24h) April 13, 2016
The influential think tank the IOBE in its quarterly report estimates that Greece will show a modicum of growth in the send half of the year, but it will not be enough ease the recession, which will be deeper that last year.
IOBE think tank sees Greek economy in recession this year https://t.co/vMhXd4UDmspic.twitter.com/8qRkgIpLDT

— Kathimerini English (@ekathimerini) April 13, 2016
The IOBE's outlook is more pessimistic than the IMF's 0.6 percent figure.
Chief Niko Vettas said "The longer the Greek economy stays unreformed, the more distant the end of the crisis becomes."