Barcelona suffer Wednesday night nervous breakdown
Comments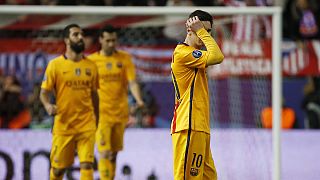 What to make of Atletico Madrid's humbling of Barcelona, knocking them out of the champions league, and now breathing down their necks in La Liga as well?
Manager Diego Simeone is in no doubt that his teams' time has come, regardless of the financial clout his next opponent can also muster when building a side.
"For us nothing is never easy. We are well aware that Manchester City have strong economic power and extraordinary players. What can we say about Real Madrid and Bayern Munich and the history they have, they are two great teams. For Atletico Madrid to be within the best four in Europe is an important step, an important step," he said.
Barcelona's manager Luis Enrique wore a pinched look. He has seen his team slide in form disasterously in the last few weeks, and the previously untouchable side now looks wounded, and almost there for the taking.
"We have two competitions ahead of us where we obviously have to improve our performance if we want to have options. In my opinion they are two very attractive goals to give them the value they have. As a matter of fact any coach in any league in the world would consider winning these two titles a successful season and that is what I hope. However all of us have to improve, starting with myself," he said.
While Barcelona will not be going to the ball Bayern Munich certainly are again, the consistent Germans brushing aside Benfica to take their place in the final four. That makes three semis in a row for Pep Guardiola and Bayern.
"From what I read in Germany I know that if we don't win the Champions League final it is an incomplete job for our supporters, I know that, we coaches are here to win titles, to win as many victories as possible. The numbers in the last few years I have never reached in my life and I don't think I will reach them again as a coach," said the Manchester-bound manager.
Guardiola might have had a pang of anguish for his former Catalan fellows early exit, but he will not be distracted from the big prize ahead, now just three games away.